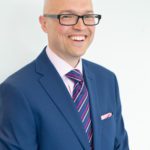 Dr Adam Read joined SUEZ Recycling and Recovery UK as Director of External Affairs in September 2017, after a successful 25 year career in the waste and resources sector as an academic, public servant and consultant specialising in municipal waste management strategy, procurement and behaviour change.
Adam is currently responsible for all of SUEZ's government liaison work, co-ordinating consultation responses, whilst sitting on a number of sector working groups, think tanks and advisory boards.
Adam is also responsible for both the internal and external communications teams at SUEZ, and is one of the key spokespeople on the company's triple bottom line approach to business, whilst managing a sustainability team who are driving forward initiatives around decarbonisation, reuse and delivering enhanced social value from our sites, investments and service delivery.
Adam is passionate about delivering a net zero waste sector and facilitating the growth of the circular economy, stemming from his PhD (2001) and is championing the sector's work around green skills and green jobs. He has chosen to join the Business in the Community (BITC) Circular Economy Taskforce to help share and learn from others who are embarking on their own circular journeys and to build a cross-sectoral voice that will influence future policy and regulation that will enable a more rapid transition to a wasteless economy.
Adam lives in Warwickshire with his partner and son, spending his time coaching youth football and enjoys watching Northampton Saints and Tottenham Hotspur when time allows.
About BITC's Circular Economy Taskforce
Each area of work BITC undertakes is led by a group of senior executives who provide strategic guidance and support us in achieving our objectives.
BITC's Circular Economy Taskforce brings together a group of senior executives committed to delivering a high impact programme to bring the circular economy to life.
The Taskforce supports BITC's Environment Leadership Team, who are helping business drive innovation that turns the threats of the climate emergency into opportunity for people and nature.
Find out more about BITC's work on the environment.