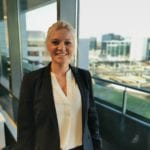 Caroline Lewis currently works for Amey Consulting in Wales as their Country Director. She has worked across the transportation, infrastructure and buildings market sectors for international, civil engineering design consultancies and embraces a global perspective having worked extensively across the Middle East, Asia, Australia, Europe, UK, and US.
Her focus of expertise is building sustainable business operations, leading organic and strategic business growth and diversification strategies into new markets. She has worked within the civil engineering industry for over 25 years.  Her focus is on client and business development, the implementation of social, economic, sustainability and environmental and wellbeing values and working with clients to ensure they are offered the right solutions against their priority and challenges.
Caroline is passionate about ensuring highly skilled jobs, quality opportunities for Wales' future generations and creating cohesive communities of the future having recently contributed to the 'Creating Cohesive Communities White Paper'. Caroline has two children and two dogs, so family life keeps her busy along with her love for running and keeping fit.