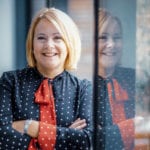 Catherine Schlieben is the Human Resources (HR) Director for Talent, Leadership, Inclusion and Diversity for National Grid, the FTSE-100 power supply company operating across the UK and North Eastern US. 
She is responsible for the strategy across talent acquisition, talent development, defining leadership behaviours and capabilities and for ensuring that National Grid has an inclusive culture and a diverse leadership and workforce.
Prior to National Grid, Catherine held a global HR leadership role for one of the world's leading payment companies, Worldpay Inc. She managed a team of people based in locations around the world and was involved in making a significant merger a success through the integration of talent acquisition and HR processes. Catherine also worked closely with a cross-functional working group focused on achieving the goals set as part of the merger deal. Further back in her career, Catherine has worked in leadership roles in ITV and various privately-owned search firms and consultancies.
Catherine is delighted to be on the Employment and Skills Leadership Team as she is passionate about ensuring companies provide young people with the right opportunities and development to set them up for their working life. She is keen to see more businesses nurture talent and find future skills from within our companies.
Catherine is a trained musician, playing the piano and violin for many years and singing with a chamber choir.
About Business in the Community's Employment and Skills Leadership Team
Each area of work Business in the Community (BITC) undertakes is led by a group of senior executives who provide strategic guidance and support us in achieving our objectives.
The purpose of Business in the Community's Employment and Skills Leadership Team is to help create a UK where everyone, regardless of their background or experience, can access the education, employment, and skills they need to thrive throughout their working lives.
Find out more about BITC's work on employment.