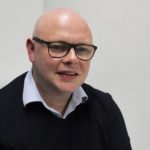 Damien Shieber is the Head of Culture and Inclusion at Santander, leading the people experience and transformation strategy across culture, wellbeing, inclusion, engagement, EVP, people insights and employer brand.
With the team at Santander, Damien is creating a thriving workplace and everyday inclusion – behaviours to make everybody feel respected, valued and able to contribute. This has been recognised with Santander being included in The Times Top 50 Employers for Women list, Top 20 Social Mobility Index Organisation and awarded Great Places to Work Excellence in Wellbeing recognition.
As a wellbeing leader, Damien is increasing the focus on colleague wellbeing with several innovations providing support across four pillars: physical, mental, social and financial. This has included a digital wellbeing hub and an employee mental wellbeing network with more than 2,500 colleagues.
Based on research in partnership with Business in the Community (BITC) and the Mental Health at Work Commitment, Damien is working to achieve better mental health outcomes for employees with a focus on standard two of the commitment creating an environment in which people feel supported to do their best work.
Prior to joining Santander, Damien worked for the BBC, RWE Group and Capita in human resources roles.
Damien is originally from Birmingham and now lives in East London. He is an advocate for social mobility and the importance of closing the privilege gap. Damien sits on the HM Treasury Women in Finance Charter Board as the UK banking representative working to see gender balance at all levels across financial services firms.
About BITC's Wellbeing Leadership Team
Each area of work BITC undertakes is led by a group of senior executives who provide strategic guidance and support us in achieving our objectives.
The purpose of BITC's Wellbeing Leadership Team is to build a movement that is committed to positioning health and wellbeing as strategic boardroom issues with a particular focus on mental health; driving collective action through evidence-based, practical solutions.
Find out more about BITC's work on wellbeing.