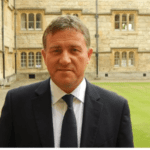 David Lusher is the Chief Executive Officer of Future Industrial Services, a UK-wide environmental services group supporting public and private sector customers across a range of industries including oil and gas, chemical and pharmaceutical, food and beverage, and marine services.
The business employs about 350 colleagues with locations from Berwick-upon-Tweed to Plymouth and is headquartered in Merseyside. The main shareholder is North Edge Capital LLP, a Manchester-based private equity fund specialising in supporting small- and medium-sized enterprises in northern England. In 2018 North Edge Capital LLP and Future Industrial Services were jointly awarded the Responsible Portfolio Company Award by the British Venture Capital Association as recognition for ESG (environmental/social/governance) sector leadership.
With a 30-year career in waste management and environmental leadership, David has a postgraduate degree in environmental management, and an MBA from Leeds University Business School. Prior to joining Future Industrial Services in 2005, David was Executive Director at Veolia Environmental Services with board responsibility for industrial markets.
David is married with three children and lives in Lytham.