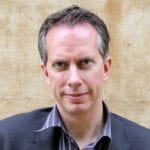 As the BBC's Rural Affairs Champion, Dimitri helps and advises on the coverage of rural issues across the whole of the BBC including news. Dimitri also has direct responsibility for all of Radio 4's rural affairs and environment programming. His portfolio includes the daily news programme Farming Today as well as series such as Costing the Earth, Open Country and Ramblings. Dimitri also looks after the BBC Food & Farming awards. He is responsible for about 150 hours of original programming a year including more than 160 features, documentaries and investigative programmes.
Previously Dimitri was the Current Affairs Editor for BBC West (television). He has also been involved in some of the BBC's major restructuring and strategy work. Over the years he has collected several awards including seven RTS and an international Prix Circom commendation.
Dimitri is passionate about disability rights and mentors disabled members of BBC staff to help them move into management. Before the BBC, Dimitri worked in the indie sector and for ITV. He is also a visiting lecturer at several universities.