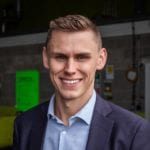 Elliot Harrison is Head of Business Development for Recycling Lives, a social business supporting life-changing charity programmes through its successful recycling and waste management operations.
Elliot has been with Recycling Lives for five years, during which he has held numerous posts across the business, working on projects related to construction waste, metal recovery, ELV recycling and WEEE processing.
Elliot manages Recycling Lives' commercial team and has been responsible for securing significant contracts with blue-chip businesses in the construction and manufacturing sectors.
Elliot is passionate about showing how an organisation can achieve commercial success and do the right thing by society.
Recycling Lives is a quadruple Queen's Award-winning organisation, recognised in 2010, 2014, 2018 and 2019 for its commitment to enterprise, sustainable development, international trade and promoting equality. Its charity ventures are highly successful – in particular, significantly reducing reoffending through its rehabilitative work with offenders, and distributing a million meals via its food redistribution centre.
About Business in the Community's Circular Economy Taskforce
Each area of work Business in the Community (BITC) undertakes is led by a group of senior executives who provide strategic guidance and support us in achieving our objectives.
BITC's Circular Economy Taskforce brings together a group of senior executives committed to delivering a high impact programme to bring the circular economy to life.
The Taskforce supports BITC's Environment Leadership Team, who are helping business drive innovation that turns the threats of the climate emergency into opportunity for people and nature.
Find out more about BITC's work on the environment.