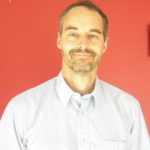 Graham Winter has worked for the Environment Agency for 24 years and is a member of the Chartered Institute of Wastes Management. Since starting on the production of industrial technical guidance, Graham led the move to electronic publication and distribution of Agency publications.
Graham has a wide knowledge of environmental issues and has focused on waste management and recycling for the last 15 years. He has led the Agency's engagement with the construction sector for over 12 years, working on the Halving Waste to Landfill campaign and now helping to steer the Green Construction Board's work to deliver zero avoidable waste by 2050. 
Recently, Graham has moved from Brexit planning to coordination of Circular Economy activity for the Environment Agency, which aims to change the way they influence, not just those they regulate directly, but further up the supply chain. Working closely with Defra, Graham is keen to ensure that regulations aide the move to a circular economy approach.
As a government body, the Environment Agency is keen to follow best practice and to share this journey with others by setting a positive example.
About BITC's Circular Economy Taskforce
Each area of work BITC undertakes is led by a group of senior executives who provide strategic guidance and support us in achieving our objectives.
BITC's Circular Economy Taskforce brings together a group of senior executives committed to delivering a high impact programme to bring the circular economy to life.
The Taskforce supports BITC's Environment Leadership Team, who are helping business drive innovation that turns the threats of the climate emergency into opportunity for people and nature.
Find out more about BITC's work on the environment.