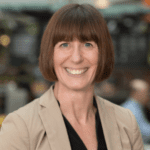 Jayne Haines is Senior Vice President of Talent Learning and Organisation Development at GSK, partnering with leaders to build a talented, motivated and resilient workforce to tackle global health challenges and bring medicines and products to patients and consumers.
Prior to this role Jayne served as Vice President for Global Learning and Development. She supported the organisation's transformation agenda to position learning as a key strategic enabler for GSK. Before this she undertook senior commercial HR roles across the organisation and the globe, relocating to both Denmark and the Czech Republic where she led the HR teams, partnering with the business leadership teams to build capability and increase revenue.
Jayne started her career at the Equal Opportunities Commission in Brussels before moving to the Post Office.
In early 2018, she joined the Advisory, Conciliation and Arbitration Service (Acas) Council as an Employer Representative. Jayne is also Chair of the charity Women in Sport, transforming sport for every woman and girl in the UK. She was the creator of the UK-wide campaign Women in Sport Wednesday.
About Business in the Community's Age Taskforce
Each area of work Business in the Community (BITC) undertakes is led by a group of senior executives who provide strategic guidance and support us in achieving our objectives.
BITC's Age Taskforce brings together a group of chief executive officers (CEOs) and other senior executives committed to creating workplaces where age does not limit an employee's or jobseeker's success.
Find out more about Business in the Community's work on age.
LEARN MORE
Business in the Community is creating a skilled and inclusive workforce for today and tomorrow