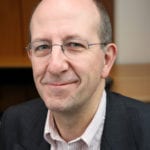 John is a longstanding board member of Business in the Community and has been actively involved in many of its programmes. He was on the first Rural Action leadership team and helped launch Race for Opportunity.
John's professional background is in public relations and marketing. He is a co-founder and former Chairman of the public relations consultancy Fishburn Hedges (now Fishburn), where he developed an interest in corporate responsibility as it became an increasingly central part of business strategy and reputation management. He also built a practice serving the not-for-profit sector.
John is now an independent consultant, and has held a diverse portfolio of non-executive roles. He is a former Chairman of Tourism South East; until 2010 he served for five years as a Charity Commissioner; and he is also a former Chairman of the governance think tank Tomorrow's Company and of a commercial theatre company. He also mentors executives in several charities.
In 2014 John became Vice Chair of the Association of Chairs, set up to support and strengthen the role of charity and other non-profit chairs.