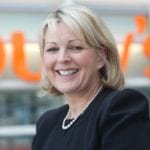 Judith is responsible for all aspects of Sainsbury's product offer, from policy formation on aspects such as ethical and sustainable sourcing, through to product technology, development, safety, and packaging, as well as corporate responsibility and public affairs.
She is a biochemist, a registered nutritionist and scientist.
In addition to her work at Sainsbury's, Judith is a Non-Executive Director of both the Environment Agency and the Rugby Players Association, and is a Deputy Chair of Farm Africa. She is also a Trustee of the Matt Hampson Foundation.
Judith sits on the government's Food and Drink Sector Council.
Judith says that The Waste to Wealth initiative is hugely important, and if this complex issue is not tackled globally, nationally and locally then it is difficult to see how we can live within our planetary boundaries. She adds that achieving zero net waste in our food system should be the aim of this group.
About Business in the Community's Environment Leadership Team
Each area of work Business in the Community (BITC) undertakes is led by a group of senior executives who provide strategic guidance and support us in achieving our objectives.
The purpose of Business in the Community's Environment Leadership Team is to help business drive innovation that turns the threats of the climate emergency into opportunity for people and nature.
Find out more about BITC's work on the environment.