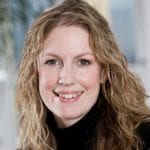 Julie is Risk Business Support Leader for PwC's West and Wales region, based in the Bristol office. A large part of her role is dedicated to the firm's Place & Purpose goals around diversity and inclusion, social mobility, digital upskilling and environment and climate change.
Originally from Wolverhampton, Julie moved to Bristol to train as an accountant with PwC, where she has worked for 26 years, and is a Fellow of the Associate of Chartered Certified Accountants. After 10 years of client-facing roles, she moved to an internal role heading up the finance team for the regional practice, then moved into broader operational leadership roles. She is a passionate believer that businesses have a responsibility to play their part in improving the communities in which they operate, and she has a particular interest in social mobility.
Julie was delighted to join the Business in the Community (BITC) South West Leadership Board to work with, and learn from, a community of people and businesses that want to improve the skills and life chances of local communities.
Julie lives in south Bristol with her family, and is a member of the This Mum Runs running group. She ran her first (and last!) marathon during lockdown, and is planning her next challenge.