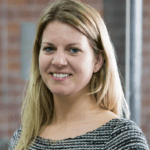 Kate Jackson leads Arup's Circular Economy skills and services across UK, India, Middle East and Africa. As a Chartered Environmentalist (CEnv), Chartered Water and Environmental Manager (CWEM), as well as a member of the Institute of Asset Management, her career has been dedicated to the integration of systems-based thinking to deliver sustainable outcomes for society.
Kate is passionate about activating and supporting interventions within all areas of policy, asset management, procurement and programme management, as well as embedding circular economic value-based outcomes across sectors such as transport, water, cities and resource management. She has been at the forefront of developing tools and assessment methodologies assisting global organisations in understanding their circular economy performance and informing strategic and operational change in support of a wider societal shift towards a thriving and regenerative economy.
Looking to the future of Business in the Community's (BITC) Circular Economy Taskforce, Kate is ambitious for the initiative to be a catalyst for businesses to collaboratively embrace value chain transition within the design, construction and manufacturing stages. By redefining the lifecycle phases of assets, products and the orientation of place-based solutions and services, she is motivated to help lead the systematic change needed to create a circular and sustainable society, enhancing the lives of communities through holistic adoption of circular economic values.
About BITC's Circular Economy Taskforce
Each area of work BITC undertakes is led by a group of senior executives who provide strategic guidance and support us in achieving our objectives.
BITC's Circular Economy Taskforce brings together a group of senior executives committed to delivering a high impact programme to bring the circular economy to life.
The Taskforce supports BITC's Environment Leadership Team, who are helping business drive innovation that turns the threats of the climate emergency into opportunity for people and nature.
Find out more about BITC's work on the environment.