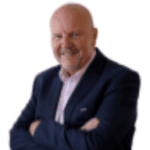 Kevin Hurst joined Veolia in 1998 in a commercial management capacity and during his career with the world's leading environmental organisation has progressed to serve on the UK management board. As a board member he has overseen the marketing, communications and corporate responsibility functions, as well as being accountable for the operational and business development of the Industrial customers business as its Chief Operating Officer.
During this time Kevin has been at the forefront of positioning Veolia as a sustainability leader committed to helping its customers participate in the circular economy and as part of the company's 'Resourcing the World' mission. He has also been instrumental in fostering the relationship with Business in the Community (BITC) at many levels and was instrumental in helping the company achieve BITC Responsible Business of the Year and in gaining the Queens Award for Sustainability.
Today, Kevin is the Chief Commercial Officer for Veolia's private sector business and is responsible for the growth and development of energy, water and waste/recycling solutions across a number of sectors.
Further functional reports as board member include Supply Chain, Estates and Security for the UK wide operation and is the board representative for its Landfill Tax Credit Scheme charity, the Veolia Environmental Trust.
He also works with various other third sector organisations who partner with Veolia and is an active member of Speakers for Schools, a keen volunteer of KitAid and has led a successful national campaign to measure social value from the work businesses do within the community.