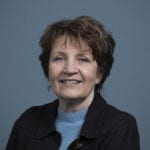 Kim is the Associate Director for the Fulfilling Work Priority Goal at the Centre for Ageing Better.
She has 40 years of experience working on the skills and employment agenda. Her primary interest is community engagement and social justice. In particular, she has worked with local partnerships to develop solutions tackling long-term worklessness and entrenched biases.
She was a founding Director of the Prince's Trust Volunteers Programme covering the north of England, Scotland and Northern Ireland. In 2005 she was appointed the Head of Strategy at Jobcentre Plus and moved on from that post to east London, where she worked with the Olympic host borough, leading its devolved employment, skills and schools' programmes, through the construction and hosting phases of the games.
In 2012 she joined the Mayor's Fund for London in 2012 as the Director of Charitable Activities, ensuring it had both reach and relevant in all 33 boroughs.
She is a trustee of the Dementia Adventure charity, a steering group member of the Battersea Academy for Skills and Employment and a governor of Abercrombie Primary School in Chesterfield.
About Business in the Community's Age Leadership Team
Each area of work Business in the Community (BITC) undertakes is led by a group of senior executives who provide strategic guidance and support us in achieving our objectives.
The purpose of BITC's Age Leadership Team is to help and challenge employers to retain, retrain and recruit older workers and to create multi-generational teams where people of all ages can flourish.
Find out more about BITC's work on age.