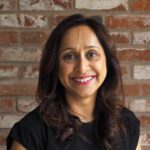 Latifa Kapadia is a corporate sustainability leader at PwC UK with more than 10 years' experience in driving the firm's environmental and social impact. She has been involved in the firm's sustainability strategy from the outset, which resulted in the firm achieving its 2007 carbon neutral status and zero waste to landfill in 2012.
She is passionate about creating sustainable outcomes and is responsible for developing the firm's sustainability strategy. This includes an ambition to achieve net zero by 2030 informed by SBTi validated targets, supporting a 'just transition' by contributing to green skills development and compelling our 25,000 strong workforce to make sustainable choices. Latifa also sits on the PwC Global Net Zero working group.
Latifa joined the firm in 2005, building on her initial career in public relations, and qualified as a Chartered Accountant (ICAEW) in PwC's Consumer Industrial Products and Services practice, prior to moving to the Corporate Sustainability team.
Find out more about Buiness in the Community's (BITC's) work on the environment.