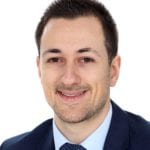 Lewis Knights is the Relationship and Workload Manager within the Asset Intelligence team at Anglian Water (AW).
Having graduated from the University of Warwick with First Class Honours in BSc Accounting and Finance, Lewis joined AW on the Asset Management Graduate Scheme and rotated around a number of areas of the business before taking a permanent role as a Project Manager within the Energy team, working on the Renewables Programme to install solar panels across operational sites. Lewis moved into his current role in Asset Intelligence in late 2019 and is playing a key role in enabling digital transformation at AW, centred around the journey towards Digital Twin. Lewis has also sat on AW's Future Leaders Board (FLB) since its inception in late 2018 and has a strong passion around Diversity and Inclusion, one of the initial areas of focus for the FLB.
Lewis is proud to work for AW, a company committed to being a truly responsible business. He believes that the Business in the Community (BITC) Future Leaders Board is one way in which he can exploit his enthusiasm to make a difference in all that he does, influence the future and challenge thinking by bringing his unique perspective to the table.
Outside of work, Lewis lives with his partner Tasha (wedding is set for May 2022!) and their pet tortoise Archie. Family and work/life balance are really important to Lewis and are his strongest motivators. Hobbies include salsa dancing, fountain pens and cooking!