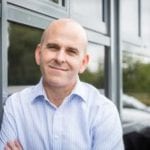 Martin Jones is the Chief Operating Officer of Home Instead Senior Care and is responsible for leading the National Office team, supporting more than 160 franchise offices.
Martin came to Home Instead Senior Care in 2011, after taking a sabbatical to care for his father who had become seriously ill. Martin experienced first-hand the varied and sometimes poor levels of care in the UK and wanted to join an environment where he could help to make a difference to the lives of other older people and their families.
Martin has extensive experience of multi-site operations, working with names such as BHS and Littlewoods. In a previous role as Operations Director with Leapfrog Day Nurseries, Martin was responsible for 101 sites. He was also Retail Director for Hawkshead and following that, Henleys.
About Business in the Community's Age Leadership Team
Each area of work Business in the Community (BITC) undertakes is led by a group of senior executives who provide strategic guidance and support us in achieving our objectives.
The purpose of Business in the Community's Age Leadership Team is to help and challenge employers to retain, retrain and recruit older workers and to create multi-generational teams where people of all ages can flourish.
Find out more about Business in the Community's work on age.
LEARN MORE
Business in the Community is creating a skilled and inclusive workforce for today and tomorrow