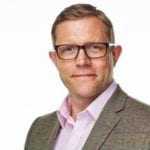 Owen Marks is Head of Rare Diseases for Pfizer in the UK, covering a portfolio including Gene Therapies and Treatments for rare disorders. The therapy areas include Rare Cardiology, Endocrine, Haematology. Owen is a member of the ABPI (Association of the British Pharmaceutical Industry) Advanced Therapeutic Medicines Group, of the BIA (BioIndustry Association) Rare Disease Industry Group.
Co-chair of the Pfizer UK Inclusive Diversity Group since 2017, focusing on all aspects of equality, diversity and inclusion across the Pfizer UK organisation. Pfizer has seen engagement in diversity and inclusion (D&I) increase markedly with Top Employer recently awarding Pfizer UK 100% score in its assessment for D&I practice. Activities span critical areas such as: OPEN (LGBTQ), Ethnicity, Gender, DisAbility and Cross Generational and Social Mobility.
A Physiology and Pharmacology Graduate from the University of Edinburgh, Owen joined the industry as a sales representative with Schering Plough in 1997. He joined Pfizer in 2000 in Cardiovascular and Mental Health marketing and then Local Marketing incorporating geodemographic data offers for local health promotion planning to primary care health organisations.
Experienced in major organisational planning and change leadership: Owen led the consolidation of UK HIV business between Pfizer and GSK to become ViiV healthcare, and also led the Planning Council for the transition of the UK business for the Pfizer: Wyeth merger.
Owen worked in a number of European Regional Marketing Leadership roles responsible for Western, Central and Eastern Europe. Based in France and then Italy these roles included Senior Director for Haemophilia International Developed Markets, and before that Marketing Team Leader for Rare and Orphan Medicines Europe.