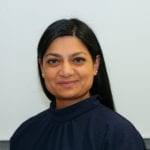 Pam Sheemar has over 10 years' experience in the finance industry in NatWest. During her career at NatWest Pam has held various positions including Local Director for North and South Wales leading large teams across the retail banking network where she has showcased extensive leadership skills in change and strategy.
Pam Sheemar has been appointed to a new role within the bank's Corporate and Commercial Coverage team as part of a new intensive, disruptive, Career Acceleration Pilot Placement programme. The new training programme will serve as platform for future developing diverse talent.
As Entrepreneur Development Manager Pam headed up the Birmingham Entrepreneur Accelerator. Pam supported hundreds of entrepreneurs to start, scale and succeed with businesses, providing a web of support including mentorship, coaching, access to an extensive internal network of support as well as working collaboratively with the external eco-system and stakeholder partners.
Passionate about diversity and inclusion she also supports various initiatives across the region and is a passionate about community and charity. Outside work Pam is also a Magistrate/Justice of the Peace sitting on the Black Country Bench, Executive Board Member for the Asian Chamber of Commerce and, as an ambassador for South and City College, Pam champions learning experience of future generations.
Pam is a proud Board Director at Birmingham Tech working on entrepreneur engagement and championing technology across Birmingham and ensuring Birmingham is put on the map for technology.
Pam is delighted to be appointed to the Business in the Community (BITC) West Midlands Leadership Board to support and drive positive change for the region.