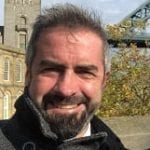 Paul Buchanan is responsible for Business in the Community's (BITC) operations.This includes the delivery of responsible business advisory, training, consultancy, programme delivery and regional business leadership engagement.
Paul has worked at BITC since 2001 and is a member of BITC's executive management team. He has previously held a variety of roles including London Regional Director, London Membership Director, Head of Membership Recruitment and North East Business Development Manager. He has previously worked at British Airways and more recently spent a year on secondment in the commercial team at Sky Plc.
He is passionate about the role of business in creating more resilient, vibrant and successful communities. Paul is the Chairman of The Boxing Academy Trust – an innovative and impactful school for young people at risk of exclusion. Paul has also been a Trustee of the John Lewis Foundation since 2015.