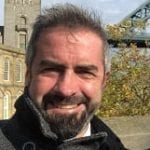 Paul Buchanan is responsible for Business in the Community's (BITC) operations in England, Scotland and Wales. This includes the delivery of BITC's flagship National Business Response Network (NBRN), providing support to communities in response to COVID-19, through our membership.
Paul has worked at BITC since 2001 and is a member of BITC's executive management team. He has previously held a variety of roles including People & Place Director, Community Director, London Regional Director, London Membership Director and Head of Membership Recruitment. He has previously worked at British Airways and more recently spent a year on secondment in the commercial team at Sky Plc.
Paul is passionate about the role of business in creating more resilient, vibrant and successful communities. He is the Chair of The Boxing Academy Trust – an innovative and impactful school for young people at risk of exclusion. Paul has also been a Trustee of the John Lewis Foundation since 2015. In December 2020 was also elected to another trustee position at the National Council of Voluntary Organisations (NCVO).
Paul is also the Executive Sponsor of BITC's Cultural Awareness Network.