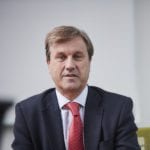 Peter has been the BP Group Regional President for Europe since April 2010. Immediately before this he was Head of Country, UK and Vice President Europe Region. Peter kept his UK role as part of his expanded European brief.

Peter's early career in BP included oil trading, refining and shipping, based in London, New York, Paris and Brussels. He then held senior strategic planning roles, initially in BP's upstream Global Gas group, and then in the Corporate Centre. On moving back into the downstream he worked on the establishment and implementation of the BP/Mobil JV, led the European Supply and Distribution activity and was accountable for BP's refining activities in Rotterdam. He then returned to the upstream to run the supply, trading and marketing business for BP's new North Europe Gas Business and was subsequently appointed Managing Director of the UK Gas and Power activities, and sat on the board of the UK Interconnector pipeline and the Great Yarmouth power station.

Peter's current role has overall responsibility for the governance, reputation, co-ordination and integration of all BP's activities across Europe. He is Chairman of BP Oil UK, BP Lubricants UK, BP Exploration Operating Company, and of the BP Europe Supervisory Board. He sits on the board of BP France, BP Italy and other internal boards. He was appointed a Director of BP Pension Trustees Limited in January 2008, and Chairs BP's European Works Council.

Peter is a board member of Fuels Europe, a council member of ICC UK and sits on the President's Committee of the CBI. He is an Honorary Director of the Royal Opera House. He sits on the Business in the Community (BITC) Place and Education leadership teams and is a member of the British Museum Chairman's Advisory Group. He is a member of the Foreign Office Diplomatic Excellence Panel and of The Programme Committee of the Ditchley Foundation.

Peter has an MA from Oxford and an MBA from INSEAD and is an honorary Fellow of King's College, London. He is married with three children, and his interests cover the arts and most sports.
About Business in the Community's Employment and Skills Leadership Team
Each area of work Business in the Community (BITC) undertakes is led by a group of senior executives who provide strategic guidance and support us in achieving our objectives.
The purpose of Business in the Community's Employment and Skills Leadership Team is to help create a UK where everyone, regardless of their background or experience, can access the education, employment, and skills they need to thrive throughout their working lives.
Find out more about BITC's work on employment.
LEARN MORE
Business in the Community is creating a skilled and inclusive workforce for today and tomorrow