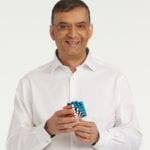 Rashik is the IBM Fellow and Vice President responsible for creating and driving IBM's European technical strategy. His focus is on helping clients on the journey to become a cognitive enterprise leveraging Cloud, AI (Artificial Intelligence) and IoT (Internet of Things) technologies whilst creating a dependable IT platform.
Drawing on thirty-eight years of practical experience in IBM, he is uniquely placed in developing strategies that are realistic and whilst providing tangible business impact. He has worked with financial, retail and manufacturing clients on IT transformation projects of all sizes. Overall, he specialises in ensuring the technical success of complex IT projects that transform business models. Some of his work is summarised in the Harvard Business Review article he co-authored "New Patterns for Innovation" Jan-Feb 2014.
Rashik was appointed to the Leeds City Region Local Enterprise Partnership Board and chairs the business communications group. He is helping develop the innovation strategies to accelerate growth of this £55bn marketplace. He is an active member of the BCS (The Chartered Institute for IT) Employer and Organisations Board where he championed the creation of the Fellows Technical Advisory Group and supported projects to increase the value of membership. Rashik also chairs the Board of Trustees for IVE, a progressive training company developing creativity as the path to social mobility.
Rashik was awarded an MBE (Member of the Order of the British Empire) as part of HRH Queen Elizabeth's 90th birthday honours for his contribution to business and innovation.
Rashik has joined the Business in the Community (BITC) Yorkshire and Humber Leadership Board because he believes we are at a critical moment in plotting the path to prosperity for the region. He is keen to play an active role in sharing the learnings in driving global digital innovation programmes to help give the region maximise the value from the opportunity ahead.