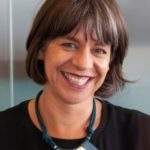 Rebecca Lawrence is Chief Executive of the Crown Prosecution Service, taking up the post in September 2019.
Rebecca grew up in west London and studied politics, philosophy and economics at Oxford University. She has 20 years of experience in senior roles across Whitehall.
Rebecca started her career in the banking sector and joined HM Treasury in 1994 where she held a variety of roles. In 2010, Rebecca moved to work in counter-terrorism – first as a Director of the Office of Security and Counter-Terrorism and later as the Director of Terrorism and Allied Matters for the Association of Chief Police Officers.
In 2013, Rebecca joined the London Mayor's Office for Policing and Crime (MOPAC), serving first as their Director of Strategy before being appointed Chief Executive in 2016. Rebecca was responsible for commissioning services to prevent crime, support victims and reduce offending and for leading partnerships to respond to changes in London's crime.
Rebecca is passionate about diversity and inclusion. In particular the opportunities and responsibilities of senior leadership, and especially white leaders, to be comfortable having candid and open conversations about race, learning constantly about what we never will have experienced given our cultural and historical background.
She takes her inspiration and input from her own upbringing in London, her work with different communities, from excellent literature and commentary such as "Why I no longer talk to white people about race" and from her black, Asian and minority ethnic colleagues whom she has mentored or who are reverse mentoring her.
About Business in the Community's Race Equality Leadership Team
Each area of work Business in the Community (BITC) undertakes is led by a group of senior executives who provide strategic guidance and support us in achieving our objectives.
The purpose of BITC's Race Equality Leadership Team is to support employers to help break down the barriers that prevent the progression of ethnic minorities in their workplaces and show how an inclusive organisation better serves its customers, clients and communities.
Find out more about BITC's work on race.