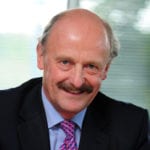 Following his education at Uppingham, Robert graduated from Birmingham University in 1973 with an honours degree in civil engineering. He joined nmcn from university, commencing his duties as a site engineer, progressing over 11 years through the roles of agent and estimator into the functions of general management and executive divisional director managing the utilities division. He is a chartered civil engineer.
Robert was appointed to the board in 1984 while continuing his role as executive director of the utilities division.
Robert was appointed chief executive in 1990, implementing a strategy of development that has taken the group from the position of a regional to that of a national contractor and created two new subsidiaries North Midland Building Limited and Nomenca Limited. He combined the role of chairman in 1999 and was appointed FICE in 2008.