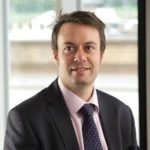 Ross Smith is Partnerships Manager at Northumbrian Water Group (NWG), which provides water and wastewater services in North East England, as well as supplying water in the south east trading as Essex and Suffolk Water. Within his role he has responsibility for community investment, stakeholder engagement and supporting the company's independent Water Forums customer challenge group.
Prior to joining NWG in 2018, he was Director of Policy at North East England Chamber of Commerce, where he remains a Council member. Earlier in his career he worked as a journalist on daily newspapers in the North East and Northern Ireland.
Ross is married with four young children. He is part of the leadership team at Westgate Baptist Church in Newcastle, and is a Governor at Studio West School in Newcastle and Emmanuel College in Gateshead.
As part of Business in the Community's (BITC) North East Leadership Board, Ross aims to further develop Northumbrian Water's role in the North East community, with a particular focus on issues around health, poverty and the environment.