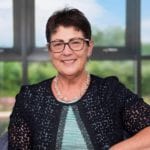 Ruth Willis is currently the Chief Executive of South Yorkshire's Community Foundation (SYCF) who raise funds from businesses, philanthropists, trusts and statutory bodies to distribute to community organisations across the South Yorkshire region. Working in collaboration with a range of partners SYCF use the funds to meet the needs of local people facing economic hardship and other social issues through grant making, capacity building, funding advice, research, and other support, thereby improving lives for South Yorkshire citizens and communities. Ruth is committed to addressing equalities, diversity and inclusion issues within communities.
Ruth is a qualified textile designer and social housing manager; an experienced senior leader and manager in the voluntary, community and social enterprise sector and in local government. She studied at Manchester and Middlesex Polytechnics and Lancaster University. Throughout her career as a consultant, employee and interim manager she has worked across the country in a variety of roles. Ruth has also coached and mentored a number of people across both sectors.
Ruth is a member of the Institute of Housing and a Fellow of the RSA.
She lives in North Sheffield, married to David and has two cats. She loves gardening, art, going to the theatre and live music, yoga.
Ruth is passionate about the role that business can play through collaboration, in supporting communities, their sustainability and healthy futures. She wanted to be a part of a progressive organisation that is actively commitment to corporate social responsibility (CSR), social impact and who's activities complement the strategic objectives of SYCF and its involvement with local communities.