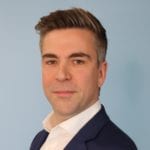 Sam Hannis is Talent Director, EMEA at Jacobs. Prior to this he was the Human Resources (HR) Director, Europe for the Buildings and Infrastructure division in Jacobs. Jacobs leads the global professional services sector providing solutions for a more connected, sustainable world. With about $12 billion in revenue and a talent force of more than 50,000, Jacobs provides services including scientific, technical, professional and construction and programme management for business, industrial, commercial, government and infrastructure sectors.
Having worked across financial services and professional services organisations, Sam has worked in a variety of human resources and management roles. For the past ten years, Sam has led HR teams in the professional services sector, delivering for infrastructure clients. From the time Sam led an industry leading group to create a new apprenticeship qualification for the sector, to the current challenges of creating a dynamic workforce to adapt to technological advances, development of others is at the heart of his HR activities.

Sam has a degree in Business Studies and HR. He is a member of the CIPD and is studying for an executive coaching qualification.
He lives in Gloucestershire and is married with three children.