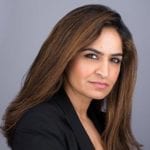 Shaheen Sayed has been with Accenture for 17 years holding both local and global roles across APAC, the US and the UK. As one of Accenture's Managing Directors within the technology industry, Shaheen manages two innovative large-scale transformational financial services programmes within investment banking and human resources, bringing leading-edge digital technologies to help Accenture's clients to become more profitable and cost-effective.
Shaheen sits on Accenture's UKI Executive Leadership Team, where she represents the interests of Accenture's Analyst Consulting Group at board level, shaping talent strategy as it pertains to the graduate population and the millennial mindset.
She has led the Analyst Consulting Group since 2014 and is accountable for the personal and professional development of more than 1,000 new graduates.
Shaheen is a passionate champion of human capital and diversity within the workplace.
About Business in the Community's Race Equality Leadership Team
Each area of work Business in the Community (BITC) undertakes is led by a group of senior executives who provide strategic guidance and support us in achieving our objectives.
The purpose of BITC's Race Equality Leadership Team is to support employers to help break down the barriers that prevent the progression of ethnic minorities in their workplaces and show how an inclusive organisation better serves its customers, clients and communities.
Find out more about BITC's work on race.
LEARN MORE
Business in the Community is creating a skilled and inclusive workforce for today and tomorrow