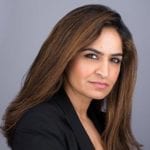 Shaheen leads Accenture's UK and Ireland Technology business. She brings 20 years of experience in Accenture, specialising in leading complex technology and business transformations and pioneering new market technologies – including first-in-kind SaaS innovation for Clients. Shaheen has held global technology leadership roles driving cutting edge technology solutions across a diverse range of industries including Capital Markets, Environment & Rural Affairs, Telecommunication and Healthcare.
Previously Shaheen led Accenture's Health & Public Service business, delivering solutions across health, tax, welfare, justice, defence, and policing, at a time when our responsiveness to the needs of these clients has never been more urgent or critical to society.
Shaheen is a regular Guest lecturer on the LSE Global Masters in Management programme and is recognised as an industry thought leader on inclusive business cultures and talent. Most recently she was voted 'Women of the Year' at the Women in IT Awards and was also named as one of the Top 10 most Influential Black and Minority Ethnic leaders by the Financial Times and featured in the Cranfield School of Management's list of 'Women to Watch'. As a passionate campaigner for Inclusion & Diversity and with a specific focus on social mobility and race, Shaheen co-founded OUTSIDERS, a non-profit organisation focused on bringing "city skills'' to inner city schools.
About Business in the Community's Race Equality Leadership Team
Each area of work Business in the Community (BITC) undertakes is led by a group of senior executives who provide strategic guidance and support us in achieving our objectives.
The purpose of BITC's Race Equality Leadership Team is to support employers to help break down the barriers that prevent the progression of ethnic minorities in their workplaces and show how an inclusive organisation better serves its customers, clients and communities.
Find out more about BITC's work on race equality.