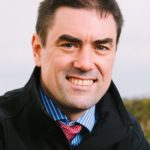 Simon Dawes is the Head of Sustainable Business at the Environment Agency. He has worked in the environmental sector for over 20 years with experience as a regulator, policy implementation and now Head of Sustainable Business.
Simon has led the Environment Agency's journey on sustainable business to an award-winning place. Overseeing a 48 per cent reduction in carbon emissions and similar class leading reductions in water, waste and business travel, Simon is now leading the development of the agency's sustainability plan, eMission 2030. This plan covers the breadth of sustainability issues and will address challenges like Net Zero carbon head on. A key element of that will be to embed ownership of the deliverables and integrate deliver into the ways of working of the business.
Simon has chosen to join the Net Zero Carbon Taskforce as he passionately believes this is the most pressing long-term issue business and communities face. Simon is also clear that the key to delivering on the huge challenge is collaboration – bringing the best ideas together and making solutions greater than the sum of the parts.