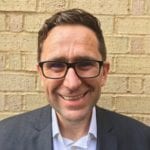 Simon is Sustainability and Corporate Affairs Director at Bristol Airport, having joined the business and moved to the South West in 2017. Simon joined Business in the Community's (BITC) South West Leadership Board in August 2020 with a specific desire to help the board develop and implement a positive vision for climate change in the region.
Simon has worked for almost 20 years in a variety of roles in the aviation sector, working previously at Heathrow and London Luton airports, and before that in local government and consultancy. Simon is a qualified transport planner and a Fellow of the Institute of Corporate Responsibility and Sustainability. His various roles have seen him leading work on strategic planning and policy, transport strategy and delivery, community and government engagement, development and corporate social responsibility. Simon is passionate about sustainability and sees business as a real force for good in terms of driving innovation and systemic change in this area.
Simon is also a currently a Board member of Weston College Corporation. Outside of work, you can usually find Simon walking his dog, working on the allotment, cycling or cold water swimming.