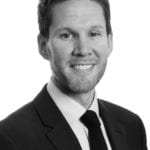 Simon Harris is a partner for Eversheds Sutherland. He co-leads the national real estate institutions and investors group focusing on helping our clients, our people and our communities to thrive.
Simon is passionate about helping his colleagues to develop their skills to achieve their potential and to deliver results for his clients. Simon has more than 15 years professional experience during which he has built up an extensive network of contacts throughout the UK. He hopes he can work, in conjunction with them, Eversheds Sutherland, Business in the Community (BITC) and its leadership board, to benefit the wider community throughout Yorkshire and Humber.
Simon supports many charities including the children's charity CORAM. In 2019 Simon was part of a group of cyclists who raised over £500,000 for CORAM by riding 1,500km from London to Cannes.
Simon is married to Jennifer, a community midwife, and they have two children, William and Sophia. When not spending quality fun time with Jen, Will and Sophia, Simon loves to cycle with various cycling clubs in Yorkshire and many of his clients in different parts of the UK and the rest of the world.