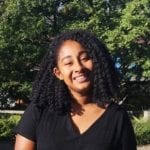 Simone Wyatt joined Aviva in 2019 as part of the Global Graduate Leadership Programme.
She has enjoyed two rotations at the company, the most recent being in the Group Corporate Responsibility team in which she hopes to continue her career.
Last year, Simone and two of her colleagues started an initiative on domestic abuse awareness which has since become an established and important part of Aviva's culture. She continues to lead this work-stream and manage relationships between Aviva and their partnered domestic abuse charities in addition to her main role.
Simone was keen to join the Future Leaders Board to collaborate with like-minded individuals and contribute to the betterment of society. She is excited to share in the knowledge and experiences of other young leaders with the goal to develop a fuller understanding of what sustainability means to different companies, and how this can be used this to drive progressive change across all sectors.
Simone attended Roundhay High School in Leeds and then graduated from the University of Manchester with a First-Class Degree in Ancient History. Her hobbies include netball, which she played competitively throughout school and university, cooking and travelling. Simone spent three months in South America after university and had hoped to travel in South-East Asia this year after accepting a work placement at Aviva Singapore. While this could not go ahead due to the pandemic, she hopes to be able to travel and enjoy similar opportunities in the years to come.