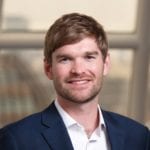 Tom Welchman is a Partner in McKinsey & Company's London Office. He is a deep organisational expert, sitting on the global leadership team for McKinsey's OrgSolutions – a suite of digital and analytics assets for operating model redesign, driving cultural and agile transformations and applying advanced analytics to shape talent strategy. Tom has a particular interest in the future of operating models and leads product teams developing new digital solutions for organisation design.
Tom joined the Business in the Community (BITC) London Leadership Board having seen the power of BITC's work during COVID-19, when he spent time with the team thinking through how UK business might best provide support for the employment and social challenges created by the pandemic. In his work, he regularly engages on issues around inclusion, reskilling, and sustainability – key focus topics for the board.
Tom is a lead facilitator for several of McKinsey's Executive Leadership programmes. Externally he is faculty for the Marketing Academy's Fellowship Programme for shief marketing officers (CMOs) transitioning to cheief executive officer (CEO) roles and regularly speaks at INSEAD on the future of organisation.
Tom holds an MA and MPhil in Economics from Cambridge University and loves being in, on or under water. He is married to Christina, a psychiatrist, and they are parents to Tristan who has been in the world for only slightly less time than Tom has been working with BITC.