The Times Top 50 Employers for Women 2020
In light of the current coronavirus pandemic, we wanted to provide a quick update on the publishing of 2020 The Times Top 50 Employers for Women supplement and the coinciding event.
We are delaying the Times Top 50 Employers event and the publication of the supplement, both originally scheduled on 30 April 2020.
The new publication of the supplement will be 30 The new publication of the supplement will be 30 July 2020 and the in-person, celebratory event will be held later on in the year, date still to be confirmed.  However, there will most likely be an accompanying webinar on 30 July 2020, but this, too, will be confirmed.
Thank you all for your continued support and understanding during this challenging time.
THE ENTRY PROCESS FOR THE 2020 LIST IS NOW CLOSED.
The Times Top 50 Employers for Women is the UK's most highly profiled and well-established listing of employers leading the way on workplace gender equality. These employers make gender equality part of their business strategy at all levels.
Join our mailing list to stay up to date with The Times Top 50 Employers for Women.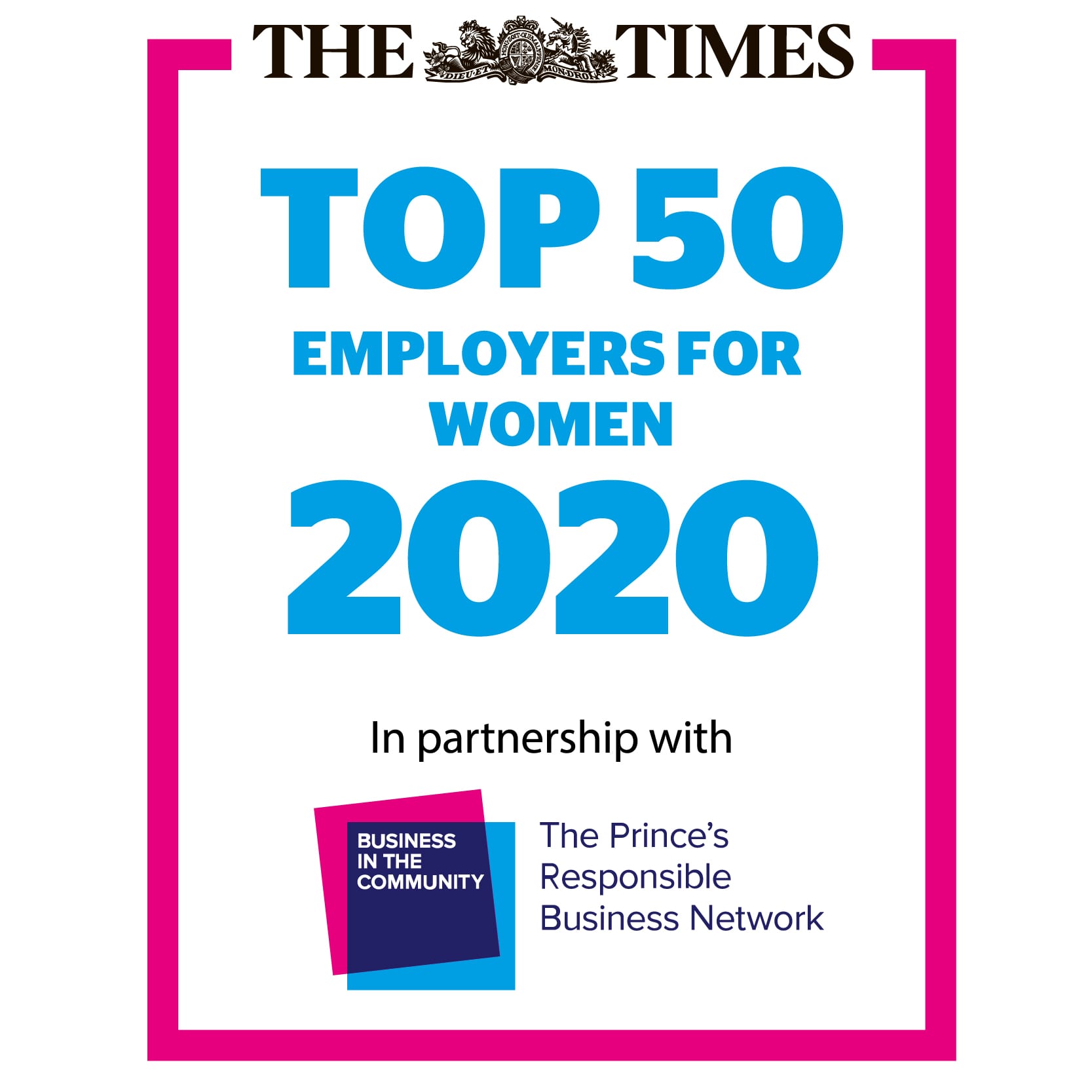 Each year Business in the Community (BITC) invites companies with a presence in the UK to apply by detailing how their organisations are working towards gender equality. The employers that make it onto the list are selected by gender equality experts at BITC. The list is unranked and published in alphabetical order.
Information
The assessment process

The assessment process focuses on transparency, the causes behind gender gaps, what companies are doing to address these structural issues and the impact of their actions. The evaluation includes, but is not limited to, roles of senior leaders, actions to increase the representation of women in senior positions, intersectionality, supporting parents and carers, stopping bullying and harassment and what they are doing to promote gender equality outside their organisation.
One entry process, the chance of two awards

In addition to making the Top 50 list entrants also have the opportunity, through one application process, to enter BITC's Responsible Business Gender Equality Award. The award celebrates outstanding progress and examples of best practice, impact, innovation and individual achievement. Both programmes recognise the progress employers are making to create inclusive workplace cultures that enable women to reach their full potential.
The Times Top 50 Employers for Women list promotion fee

It is free to enter The Times Top 50 Employers for Women. Following assessment and once the Top 50 list has been identified, there will be a promotion fee of £1,250 plus VAT in order to be included in the list and to be considered for a Business in the Community Gender Equality Award. The promotion fee includes the use of The Times Top 50 Employers for Women 2020 logo and profile in the print supplement, published on 30 April 2020, along with The Times and Sunday Times Appointments website.