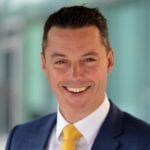 As the Vice President for Scotland and Northern Ireland, Adam Lovelock is responsible for the leadership, management, and strategic direction in the Enterprise Rent-A-Car group.
Adam began his Enterprise career via the company's management training programme. He joined Enterprise in 2002 as a Management Trainee in Chatham, Kent. Within a year he was promoted to Branch Manager. After three years with the company, he was promoted to Area Manager in Essex. Adam also ran all London airports as an Area Manager and helped oversee the relocation of Enterprise's flagship location at Heathrow airport.
Adam has held various senior positions. Most recently, Adam was the Vice President of Operations and Assistant Vice President/Sales Director for the UK and Ireland Insurance Sales Division.
Enterprise Rent-A-Car is part of Enterprise Holdings, which owns and operates the Enterprise Rent-A-Car, National Car Rental and Alamo Rent A Car brands. In its fiscal year 2017, Enterprise Holdings accounted for $22.3 billion in revenue and operated 1.9 million vehicles throughout the world. The company employs more than 5,500 employees in the UK and Ireland, and 100,000 worldwide. It operates more than 10,000 branches globally and is available in more than 90 countries.