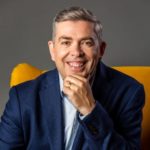 Andrew Finlayson began his career supporting the UK Government before moving into media, working across Europe and the US in the retail, finance and travel sectors before taking a leadership role in Accenture Song UK&I, leading Health & Life Sciences. His extensive, experience is routed in international clients; overseeing 'end-to-end' realisation and defining the strategy and supervising the delivery and support of impact, value and outcomes.
Key achievements to date include clinical study management and content management projects in life sciences that have been deployed across 50 countries and over 100 territories respectively. As well as contributing to a regulatory agency's ten-year strategy on the "future of healthcare".
Andrew has held leading roles as Innovation Champion, Programme Director, Experience Architect and Subject Matter Advisor in large scale or complex digital and innovation programmes, relating to engaging human experiences – ranging from patient, to carer, to citizen.
One of Andrew's most passionate areas is inclusion and diversity. He is devoted to these causes, not only in the workplace, but holistically and is responsible for driving all of the Accenture Song UK&I inclusion and diversity initiatives.
Dedicated to developing up and coming talent in the North West, Andrew attends and supports over 50 events that go beyond his involvement with Accenture.
Andrew is an executive coach for a number of tech client leaders, forming the narrative and positioning a number of change initiatives.
Beyond his commitment to young entrepreneurs, Andrew works alongside many social value initiatives and is highly involved in helping the North West regional talent that is underserved, from lower socioeconomic backgrounds and those with physical and mental disabilities. Working with charities which specialise in using technology to enrich the lives of those with a disability, Andrew continues to utilise Accenture's skills and position of influence to support the local community.
Outside his role at Accenture, Andrew spends much of his personal time supporting the North West community. This includes being a trustee of the Blackpool Polar Bears Multi-disability Swimming Club which helps members of the community with a physical or learning disability. An organisation close to Andrew's heart as his youngest daughter is severely disabled having been diagnosed with DDX3X gene mutation. In addition, Andrew also volunteers and fundraises for street dance charity, School of Street which is targeted at underprivileged children and is one of the selected charities that was chosen to perform for Her Majesty the Queen at the Platinum Jubilee celebrations.