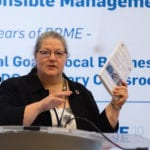 Carole Parkes is Professor of Responsible Management at Winchester University Business School, a United Nations Principles for Responsible Management Education (PRME) Champion School. She has both a business and academic background, previously working as a human resources professional in both the retail and health sectors.
Carole is a member the PRME Global Advisory Group, the recent Chair of the PRME Regional Chapter UK & Ireland and Chair of the UK Sustainability Literacy Test Group. In July 2017, at the 10th Anniversary PRME Global Forum UN Reception, Carole was presented with a PRME Pioneer Award for her leadership and commitment to the development of PRME, and her appointment as Special Advisor to the UN for the PRME initiative was announced.

Carole is an editor of publications for the Fighting Poverty as a Challenge for Management Education PRME Working Group, edited a PRME 10th Anniversary Special Issue of the International Journal of Management Education). Carole is also an Inaugural Fellow of the Environmental Association of Universities and Colleges (EAUC), on the editorial board for Greenleaf Publishing and an editor for Sage publications.
Carole was previously Director of Social Responsibility and Sustainability at Aston University, where she developed and led ethics, responsibility and sustainability, first in the Business School and the Aston MBA and then across all schools in the University. She was also invited to be the Christopher Chair in Business Ethics at Dominican University in Chicago and, a researcher in residence at the UN PRME in New York.