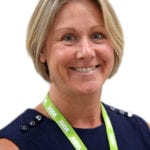 Connelee Usher is the Business Continuity and Communication Manager at Asda Stores Ltd, Leeds. Connelee, who has been in the role for the past seven years, oversees the Business Continuity Programme and is responsible for coordinating the Incident Management Group within Asda. In doing this she ensures that any incidents affecting stores, distribution centres or home offices are dealt with quickly, minimising the impact to customers, colleagues and operations.
She has 20 years of experience in retail and, before becoming a Member of the Business Continuity Institute (MBCI), had a successful career in finance. Being a qualified management accountant, Connelee has a strong commercial background that lends itself to understanding the needs of small businesses from a variety of perspectives.
Connelee is passionate about supporting communities to help make them more resilient, including helping small businesses to recover from COVID-19. Asda works with hundreds of small- and medium-sized enterprises (SMEs) and Connelee is helping to raise the profile of support provided by Business in the Community (BITC) to Asda's suppliers and wider network. By working collaboratively there is an opportunity to share information, best practices and crucially to get support to those businesses that need it most.