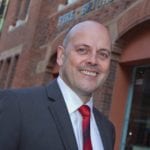 David Adair is passionate about collaborative cross sector partnerships. He joined PwC in 2001, bringing extensive knowledge and experience from the voluntary sector in relation to social mobility, the creative arts and social enterprise.
David oversees PwC's Community Investment in the UK, a contribution totalling £6.2 million (FY20) in cash, time and in-kind support. This includes instigating the ColourBrave Charity Fund in response to Black Lives Matter and PwC's response to COVID19 through volunteering.
David has a wealth of experience relating to place based change, having initiated and developed PwC's own social enterprise hub at The Fire Station Southwark London incorporating 'Brigade', a restaurant training those at risk of homelessness in culinary skills, now in its 10th year. The Fire Station also houses the School for Social Entrepreneurs and Social Enterprise UK. David conceived the PwC Social Entrepreneurs Club which currently supports over 300 social enterprises across the UK with mentoring and masterclasses including supporting The Hub in Bradford.
David is a Trustee of the PwC Foundation and chairs the PwC Charity Discounted Board. A Fellow of the Institute of Corporate Responsibility and Sustainability (ICRS), a Commissioner on the London Community Commission and a member of The Youth Future Fund Employers Advisory Board.
David was named SEUK's Social Enterprise Champion of the year and a Business in the Community (BITC) Gamechanger (2012) as well as being awarded The Global CSR Leadership Award (2013).
David looks forward to seeing the collective impact the Place Taskforce can instigate.
Business in the Communty's place programme
Business in the Community's (BITC) Place Programme is about bringing everyone together in a place to act collaboratively. To act on long-term goals, based on a common agreement of the challenges, opportunities and solutions and drawing on the strengths of everyone in that community, whether they are a business, a community organisation or from the public sector.
Our mission
To facilitate meaningful connections between businesses, communities, and local councils to reset economic ambitions and collaborate on new, innovative solutions that will deliver long-term, transformative impact.