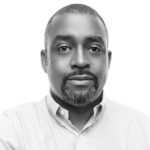 With over 30 years of experience in the Telecoms and IT space, Dean has extensive knowledge and background in the development cycle of technology and its impact on business and society in general.
He has worked for, and held leadership positions in, many of the major players in the telecoms industry over this time including BT, Motorola, Energis, C&W and, most recently, Verizon. This experience gives Dean the opportunity to build a broad base of technical, sales and business experience across various functional areas.
Within Verizon, Dean has held a number of leadership roles as a Managing Director, encompassing pre-sales solution architecture, global integration architecture and complex deals, professional services, consulting and sales.
Dean is a passionate advocate of the use of technology and business to address some of society's overarching issues such as social justice and equality, health equity, climate change and the environment and responsible business in general. He is also a keen advocate of diversity and inclusion within the corporate space acting as a mentor and coach to developing talent from diverse backgrounds.
A long-suffering Arsenal fan and season ticket holder, Dean also holds a UEFA B License and has coached and scouted extensively from grassroots to elite level. He is chairman of Dulwich Village FC. He also has a soft spot for Crystal Palace but is clear on where his allegiances lie.