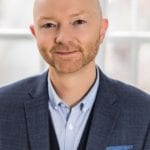 Julian Skyrme is the founding Director of Social Responsibility at The University of Manchester. Manchester is unique in UK higher education for having social responsibility as one of its core goals and Julian leads in ensuring its learning, research, public and civic engagement and professional services make a positive difference to society.
Julian has three degrees from The University of Manchester: a BA in Political Philosophy, Economics and Social Sciences (first-class honours); an MA degree in Social Research (distinction); and a Doctor of Education (EdD) in educational policy and philosophy.
After qualifying as a teacher, Julian spent his early career as Head of Social Sciences and Assistant Vice-Principal in a large inner-city Sixth Form College. He later became The University of Manchester's first Head of Widening Participation in 2004 and its first full-time Director of Social Responsibility in 2012.
Julian is the first person in his family to benefit from university and is passionate about its social purpose and accessibility. He contributes to local, national and international policies, initiatives and networks to enhance the social engagement of higher education. He sits on: Manchester City Council's Strategic Education Partnership Board and Homelessness Partnership Board; the Board of Manchester's Loreto Sixth Form College; as a Trustee and Board of MACC – Manchester's voluntary, community and social enterprise support organisation; and Business in the Community's (BITC) North-West Leadership Board.
He is also a Fellow of the Royal Society of the Arts, keen guitarist and cyclist, Manchester United and Wales fan, and father to two children.
Julian says: "As the largest university in the north of England, with social responsibility as a core goal, I am delighted to join BITC's North West Leadership Board. Universities like mine exist to improve the world – be that locally, nationally or internationally – through developing and sharing knowledge about some of our greatest social and environmental challenges."