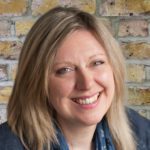 Hil Berg works nationally and internationally, supporting corporate, public and third sector organisations to integrate purpose into strategy, with a focus on sustainability and social responsibility.
Previously Head of Sustainability at Iceland Foods, she worked at its Deeside Head Office with Managing Director Richard Walker. She helped devise and lead Iceland's 'Doing it Right' strategy and major brand activism campaigns on palm oil and plastic pollution, as well as plans to reduce carbon, food waste and plastic use. She now acts as Responsible Business Advisor to the business.
Hil has over 25 years of experience as a brand and communications advisor, specialising in social change. Her work has won multiple industry award. She has twice been named Outstanding UK Independent Consultant by the Chartered Institute of Public Relations and was one of the country's first Chartered PR Practitioners. She has a master's degree in PR and Communications for Social Change, with a research specialism in brand activism.