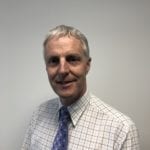 Ian Gibbs is a National Technical Manager in Sedgwick. His background is in the insurance sector, project managing the claims for and repairs of, domestic and commercial buildings. As a manager, he has focused on repairing building damage from general perils, particularly flood. He has developed a service to the insurance market, providing flood resilient advice and repairs to customers.
Ian is leading Task Group Two on small business resilience within the Department for Environment, Food and Rural Affairs (Defra) Property Flood Resilience Roundtable. He is the Chair of Business in the Community's (BITC) Business Emergency Resilience Group's (BERG) extreme weather taskforce, which aims to help small businesses better prepare for and recover more quickly from significant weather events. In addition, he is a member of the Royal Institution of Chartered Surveyors (RICS) Flooding and Insurance working group. His work in these groups provides him the opportunity to influence the thinking on future flood response
About BITC's Business Emergency Resilience Group Leadership Team
Each area of work BITC undertakes is led by a group of senior executives who provide strategic guidance and support us in achieving our objectives.
The purpose of Business in the Community's Business Emergency Resilience Group (BERG) Leadership Team is to mobilise support for small businesses to better prepare for, respond to, and recover from business disruptions such as flooding and cyber-attacks.
Find out more about Business in the Community's work helping businesses and communities across the UK to prepare for, respond to, and recover from emergencies.