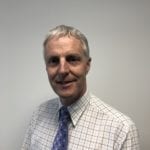 Ian Gibbs is a National Technical Manager at Sedgwick. His background is in the insurance sector, project managing claims for and the repairs of domestic and commercial buildings. As a manager, he has focused on repairing building damage from general perils and dealing with the response to large scale flood events. He has developed a service to the insurance market, providing flood resilient advice and repairs to customers.
Ian has been a member of the Department for Environment, Food and Rural Affairs (Defra) Property Flood Resilience Roundtable for several years and is currently Vice-Chair. He is on the Steering Committee of the Environment Agency (EA) Resilience Pathfinder Projects which is driving the uptake of flood resilience and part of the CIWEM team delivering flood resilience training to the EA and the wider flood community. He works closely with universities researching flood resilience, to advance the understanding of the intersection of flooding and insurance. His work in these groups provides him with the opportunity to influence the thinking on future flood response.
Ian is passionate about the area of flood resilience and the opportunities it brings to protect individuals and communities from the effects of flooding. So, an opportunity to join Business in the Community's (BITC) Small Business Taskforce is an opportunity to use this experience to make a difference.
When not working Ian likes to keep fit and is a keen sailor.