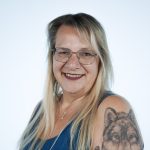 Julie Hillman has worked across multiple disciplines and roles throughout her career based in the IT Industry. A key part of her role as Transformation Director at Worldline UK&I is to champion and lead the Apprenticeship Programme. Worldline UK&I have recently been awarded 'East Midlands Region National Apprenticeship Award for Large Employer of the year 2023′, a personal passion for Julie, the organisation also holds Times Top 50 Employers for Gender Equality and Great Place to Work 2022 recognition.
Julie began her career through the then Youth Training Scheme (YTS) going on to gain her MBA from Loughborough University in 2003 whilst maintaining a demanding career alongside the birth of her eldest daughter. Julie has a wealth of experience across the many facets of corporate life which she draws on in her Transformation Director role, always with a lens on the people and the culture of the organisation.
In her spare time Julie enjoys spending time with her two daughters – Rhea & Jodie, is an avid reader and loves a long walk in the forest or along a quiet beach with her Rough Collie Azlan.