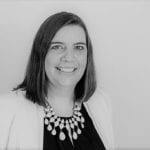 Karina O'Gorman has been with InterContinental Hotels Group (IHG) since 2018 as Head of Corporate Social Responsibility looking at global community strategy and ESG reporting, as well as business partnering IHG's Europe, Middle East, Asia & Africa (EMEAA) region.
Prior to joining IHG, Karina was Head of Corporate Social Responsibility for Pentland Brands, where she led the team to ensure the family of brands in the outdoor, sports and footwear space operated sustainably. Other roles in this space have been with L'Oréal, Microsoft and BlackBerry. She has led fundraising efforts for the MS Society in the UK and Médecins Sans Frontières (MSF) in the Middle East.
Through working across both the corporate and third sector, Karina is passionate about finding ways to work collaboratively to solve societal issues and to drive systemic change.
Karina is pleased to join Business in the Community's London Leadership Board as it provides opportunities to connect with others and drive change within London.