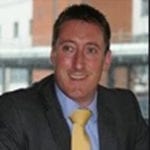 Kieren Cooper is a partner at Deloitte and has been working in audit and assurance within the financial Services sector for more than 20 years.
He works predominantly in the retail banking sector, with a particular focus on building societies and specialist banks. He also works with insurance brokers and wealth mangers across the regions. His time is spent delivering both external and internal audit outsource services, as well as advising boards in specialist areas such a prudential and conduct regulation.
Kieren works closely with the Building Societies Association and often speaks publicly on his areas of specialism.
Outside of client work, Kieren is the Responsible Business Sponsoring Partner for Deloitte in the West Midlands. In this role he oversees all aspects of responsible business practice for Deloitte in the region including its charitable work, work with schools and education, green agenda and all other aspects of responsible business.