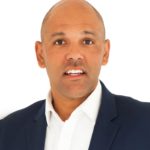 Lee Mellor is a UK-based, pan-European business leader with a wealth of experience across the business-to-consumer and business-to-business product markets, with a proven track record of business transformation, a successful history creating growth, driven by values and purpose. He is a strategist with a deep commitment to building, leading and supporting high-performance teams.
Lee is currently the head of SC Johnson Professional's business for Europe. SC Johnson rests its purpose on the positive impact they make on people and communities around the world and at SC Johnson Professional, we aim to be most trusted to provide safe, healthy and sustainable environments away from home. Lee joined SCJ Professional in September 2020.
Lee's purpose and sustainability driven background started at commercial flooring manufacturer Interface.
He joined Interface in July 2018 as Vice President & General Manager UK, Ireland, Nordic & MEA. Interface is a global flooring company specialising in carbon-neutral carpet tile and resilient flooring. His role at Interface is to strategically deliver and manage the region's sales and business strategy and build effective and engaged teams across the regions.
Lee has extensive experience encompassing commercial, operations and corporate planning across EMEA (Europe, the Middle East, and Africa) regions. He has significant experience in implementing change programs with an ability to function effectively at both a strategic and tactical level.