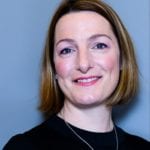 Lisa Tremble is an exceptional communications and policy leader with a track record of success at the highest levels of government, the film industry, law and financial services.
As Group Corporate Affairs and Sustainability Director, Lisa is responsible for telling the Direct Line Group story by engaging the talent of its people to develop, protect and advance the group's vision, purpose, reputation. This is to ensure that the long-term sustainability of the business is at the heart of its decision making. Lisa manages all financial and corporate communications, purpose and sustainability as well as regulatory reporting and public affairs.
Lisa also set up the Direct Line Group Community Fund to support communities during the COVID-19 lockdown. This fund has distributed more than £2m to just under 200 charities, helping more than 100,000 people in the UK.
Her career encompasses leading communications for London law firm Mishcon de Reya, representing the UK film industry, and working in Whitehall advising Cabinet ministers.
Lisa is passionate about purpose-led business and is excited to be joining Business in the Community's London Leadership Board so that she can make a difference in the region she calls home.
Lisa is also a charity trustee and lives in Kingston with her husband and three children.