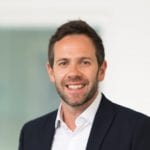 Luke Takeuchi was appointed Chief Executive of the housing association RHA Wales in 2018 having previously been Director of Operations since 2014. Prior to this Luke lived in the South West and North West of England where he was Regional Manager with the Places for People group, one of the UK's largest property development and management companies. Luke has worked in the housing sector for almost 20 years.
Luke is passionate about maximising the opportunities for communities where RHA operate. This includes delivering high quality homes, education and skills opportunities and improving health and wellbeing. As RHA's Chief Executive Officer Luke oversees the strategic direction of all of RHA's business activities ranging from social impact projects, asset management investment through to construction projects for new affordable housing developments.
Luke is a Board Member of the Cwm Taf Morgannwg Regional Partnership Board, working with the health sector and the third sector to improve the health and wellbeing of people in the area.
He says "being able to contribute to Business in the Community's Cymru's plans and work with colleagues from many different business areas to make a real difference locally is a very exciting opportunity".
Luke lives with his wife and three children in South Wales, he enjoys the outdoors, is a keen runner, long time supporter of Liverpool Football Club and enjoys reading and music.